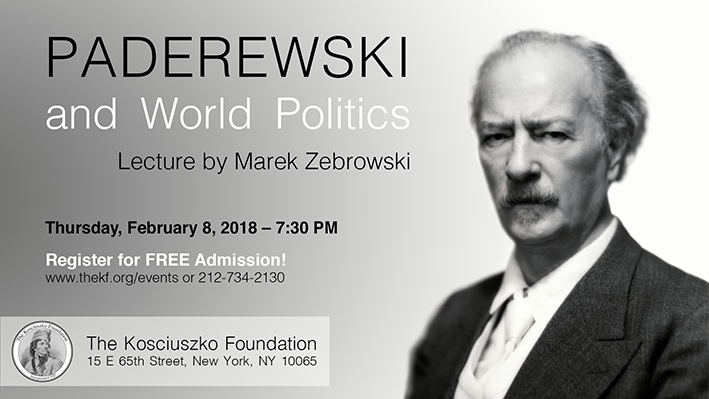 On Thursday, February 8th, 2018, the Kosciuszko Foundation was pleased to present a lecture Paderewski and World Politics by Marek Żebrowski.
The evening began Marek Skulimowski, President of Foundation welcomed guests with a short introduction about speaker Marek Żebrowski - Director of USC Polish Music Center, Pianist, Composer and Historian.
The lecture focuses on Paderewski's political activities between 1910 and 1922, his role in the "Front Morges" political formation in Switzerland in the 1930s, and on his last year of life, when Paderewski became a World War I refugee in America.
Event Press coverage (in Polish):
---
| | |
| --- | --- |
| | Marek Żebrowski resides in Los Angeles, California where, since 2005, he has served as the Program Director for the Polish Music Center at USC and Editor-in-Chief of the Polish Music History Series. Since 2008, he has also served as the Artistic Director of the Paderewski Festival in Paso Robles, California. He authored Celebrating Chopin & Paderewski, Paderewski in California and several other books about film directors and cinematographers, published by the Tumult Foundation. In addition to his activities as pianist and composer, Marek Żebrowski has been a frequent lecturer for the Pacific Symphony Orchestra, Boston Symphony Orchestra, Harvard University, and The New England Conservatory of Music, and for several years he has been a contributing writer for the Boston Book Review. |