Lubomir Tomaszewski
(June 9, 1923 – November 15, 2018)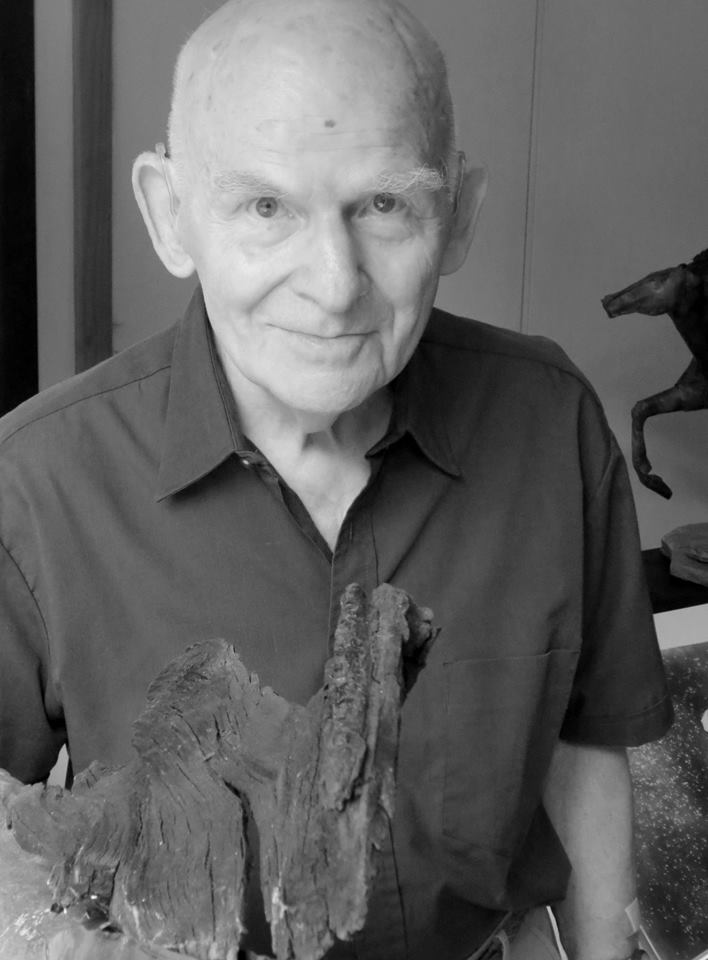 It is with deep regret that we inform about the passing of Lubomir Tomaszewski, a celebrated Polish artist, a visionary in industrial design and unique voice in the art world, professor (later professor emeritus) at the University of Bridgeport who mentored and inspired generations of talent. Lubomir Tomaszewski passed away on November 15, 2018 at the age of 95. He is survived by his wife, Krystyna and his two daughters, Dorota and Christine.
On August 23, 2018 the Kosciuszko Foundation hosted Two Times Emotion - an exhibit of sculptures by Lubomir Tomaszewski and paintings by Janusz Skowron. It was the last exhibition of his works attended by the artist.
Friends are invited to attend his funeral service at the Cyril F. Mullins Funeral Home, 399 White Plains Rd., Trumbull on Monday, Nov. 26 at 10:15 a.m. and at Notre Dame of Easton Church, 655 Morehouse Rd. Easton at 11:00 a.m. A wake will be held on Sunday, Nov. 25 from 3:00 p.m. to 6:00 p.m.
Donations in place of flowers may be sent to the Kosciuszko Foundation, 15 E 65th Street, New York, NY 10065.
To leave an online condolence please visit: www.mullinsfh.com
---
Lubomir Tomaszewski was born in Warsaw, Poland. He got his diploma from the Sculpture Department at the Academy of Fine Arts in Warsaw, Poland, while at the same time studying architecture at the Warsaw Polytechnic. From 1956 to 1966, he worked as a designer at the Institute of Industrial Design in Warsaw, gaining international recognition for design of coffee sets called 'Ina' and 'Dorota'. In 1966, Lubomir immigrated to USA, where he taught design at the University of Bridgeport, CT for 25 years. He was named the professor emeritus of the design department after his retirement. In May, 2014 he received the Lifetime Achievement Award from the University of Bridgeport.
Through all these years, he continued to work in art, creating sculptures out of natural rocks and metal, as well as driftwood and metal, and even painting with fire on paper. His works have been featured at hundreds individual and group exhibitions all over the world and are in many prestigious gallery and museum collections, both public and private, mostly in the United States.
As the spiritual father of the Emotionalist movement, he created in accord with the human nature and was able to communicate on the deepest emotional level. Subtle and ethereal, Tomaszewski's art can also be shocking and tragic. Lubomir Tomaszewski captivated the international public as shown by the reactions to his very successful European exhibition staged in the Palace of Nations in Geneva, Switzerland in 2014 and the European Parliament in Brussels, Belgium in 2018.
In 2014 he received Gold Medal Gloria Artis and Award 'Meritorious for Invention'. Hiscreativity is admired by distinguished collectors all over the world: Jimmy Carter, Lawrence Rockefeller Estate, Robert Marston, and Margot Rosenmund Calles, among others.