World-renowned Chemist Professor Krzysztof Matyjaszewski Gives a Lecture at the Kosciuszko Foundation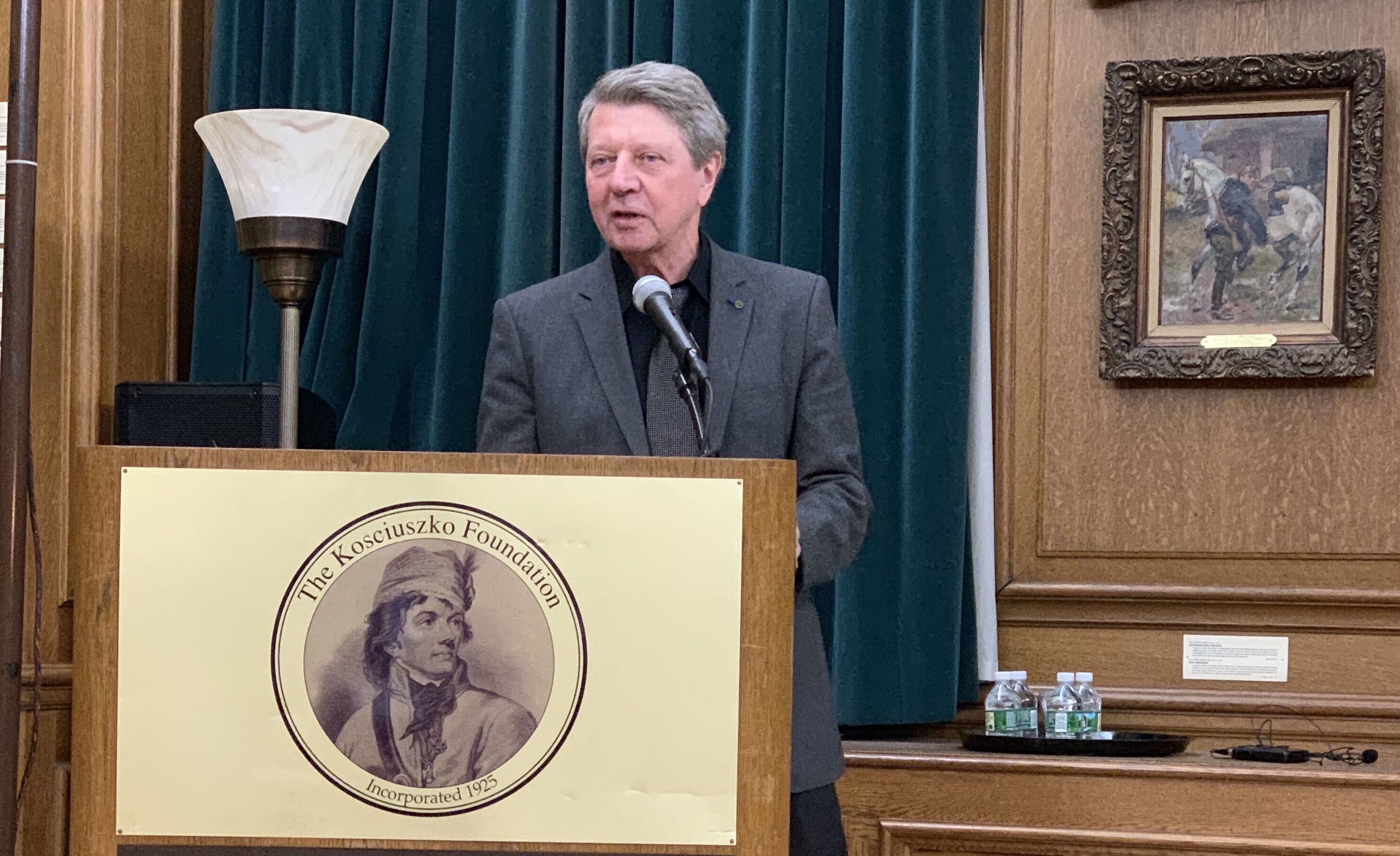 Professor Krzysztof Matyjaszewski, one of the world's foremost researchers in the field of polymer chemistry, best known for the discovery of atom radical transfer polymerization (ATRP), was a guest lecturer at the Kosciuszko Foundation's Collegium of Eminent Scientists Event Series held on January 26, 2019 at the Foundation's House in New York City.
Professor Matyjaszewski, J.C. Warner University Professor of Natural Sciences at Carnegie Mellon University presented a lecture titled: "Macromolecular Engineering by Taming Free Radicals" which elaborated on the advantages of the application of ATRP. He explained how this method of polymer synthesis allows scientists to create a wide range of materials with highly specific, tailored functionalities used for the production of advanced materials, such as health and beauty products, biomedical and electronic materials, dispersants, lubricants, additives, or sealants.
Born in Konstantynow, Poland, Prof. Matyjaszewski received his doctorate from the Polish Academy of Sciences in 1976 and completed a postdoctoral fellowship at the University of Florida in 1977. From 1978 to 1984, he was a research associate of the Polish Academy of Sciences. From 1984 to 1985, Matyjaszewski held appointments at the University of Paris, first as a research associate and then as a visiting professor. In 1985, he joined Carnegie Mellon, where he founded and currently directs the Center for Macromolecular Engineering. In 1998, he was appointed the J.C. Warner Professor of Natural Sciences, and in 2004 he was named a University Professor, the highest distinction faculty can achieve at Carnegie Mellon. He also holds appointments at the Department of Chemical Engineering at the University of Pittsburg and at the Lodz Polytechnic as well as at the Polish Academy of Sciences in Lodz.
Contributions of Professor Matyjaszewski have had a profound impact on various fields of materials chemistry. His research group has continued to develop ATRP since its discovery in 1994, improving the technique and extending its use to many applications in the automotive, building materials, medical, energy and environmental fields.
Prof. Matyjaszewski is also one of the leading educators in the field of polymer chemistry. He has authored 23 books, 98 book chapters and more than 1100 peer-reviewed scientific papers. He holds 61 US patents and his work has been cited in the scientific literature more than 102,000 times, making him one of the most cited chemists in the world. Awards that Professor Matyjaszewski received include 2017 Franklin Medal in Chemistry, 2016 Casimir Funk Natural Sciences Award, 2015 Dreyfus Prize in Chemical Sciences, 2012 Maria Curie Medal, 2011 Wolf Prize in Chemistry. In addition, he received ten honorary degrees and is a member of National Academy of Engineering, Polish Academy of Sciences, Russian Academy of Sciences, and a fellow of National Academy of Inventors and American Chemical Society.
---
The Kosciuszko Foundation Collegium of Eminent Scientists was established in 2012 with the goals to honor eminent scientists of Polish origin and ancestry who have achieved recognition in the USA; to recognize, highlight, and publicize their achievements and important contributions to the respective fields of science and to identify, record, and catalogue eminent Polish scientists and scientists of Polish descent residing in America.