U.S. Embassy and Kosciuszko Foundation Announce New Exchange Award to Celebrate Polish-U.S. History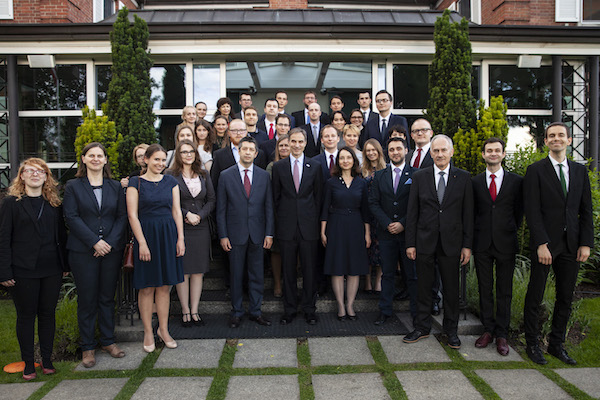 On May 17, U.S. Ambassador to Poland Paul W. Jones hosted a reception at his residence in Warsaw to honor the work of the New York-based Kosciuszko Foundation in promoting closer ties between the United States and Poland. Together with Marek Skulimowski, the President and Executive Director of the Kosciuszko Foundation, Ambassador Jones personally recognized the 40 new Kosciuszko Foundation Fellows recently selected to pursue research in the United States during the 2018-19 academic year. The 40 Polish fellows will conduct research for 3-6 months in the sciences, humanities, arts, and Polish studies. Hailing from all over Poland, the scholars will conduct their research with partner institutions across the United States, including – but not limited to – Stanford University, the University of Virginia, Yale, Hunter College, the University of Texas, Princeton, St. Joseph's University, and the University of California at Davis. Addressing the newly selected grantees, Ambassador Jones called their "breadth of knowledge and expertise inspiring."
During the reception, Ambassador Jones and Marek Skulimowski also announced a "Centennial Award" in honor of the centennial of the establishment of diplomatic relations between Poland and the United States in 1919. This new exchange grant from the Kosciuszko Foundation will be offered during the 2019-20 application cycle to a committed researcher who is eager to enrich and share their expertise in the field of Polish-U.S. relations over the last century. The best candidates for "Centennial Award" will be historians, professors of American Studies or PhD candidates researching important moments of Polish-U.S. history after Poland regained its independence in 1918. Their research will be presented for publication after its completion and presented to audiences in Poland and/or the United States in order to increase mutual understanding of Poland and America's shared history. The announcement of the new award will be included in the annual call for nominations of the Kosciuszko Foundation this fall. Ambassador Jones thanked Marek Skulimowski and the Kosicuszko Foundation board members for offering this new award, remarking that "Your work, your energy, and your commitment to promoting closer people-to people relations is pivotal to creating a bright future together."
Founded in 1925 on the eve of the 150th anniversary of Thaddeus Kosciuszko's enlistment in the American revolutionary cause, the New York-based Kosciuszko Foundation is dedicated to promoting educational and cultural exchanges between the United States and Poland and to increasing American understanding of Polish culture and history. It annually funds $500,000 in research scholarship for Polish students and young scientists to pursue their research with academic partners in the United States for periods between 3-9 months. A similar amount of funding goes to other cultural and educational programs also designed to promote friendship and mutual understanding between the Polish and American peoples.