$ 100,000 for the Kosciuszko Foundation from The Polish American Medical Society (PAMS) from Chicago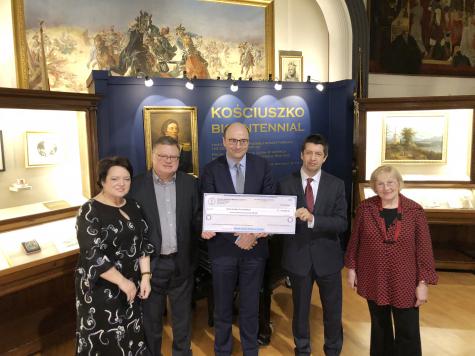 On Thursday, January 18, 2018, the Kosciuszko Foundation and the Polish-American Medical Society signed an agreement establishing a $100,000 scholarship fund. The FUND shall be used to award annually a scholarship(s) to a United States citizen of Polish descent from the Chicago area, enrolled in graduate studies of medicine (MD or DO), dentistry (DDS or DDM) or veterinary (DVM) sciences in the United States, when Fund's income was sufficient to support such an award. This fund is going to be administered by the Kosciuszko Foundation in New York.
With both the President of the Polish-American Medical Society, Dr. Kornelia Krol and the President of Executive director of the Kosciuszko Foundation, were present. Among other members of the Polish-American community who participated in this event were: Consul General of Poland in Chicago, Piotr Janicki; President of the Polish Roman Catholic Union of America, Joseph A. Dobrot Jr.; Managing Director of the MAP Margaret Kot; Board members of both of the organization and representatives of local media. Consular General, Piotr Janicki underlined, that the fact of establishing this scholarship fund, can serve as an excellent example of a very good collaboration between organizations serving Polonia in the United States.
"The Kosciuszko Foundation has been serving Polish community in the United States for almost 100 years. We are very happy to have such a trustworthy partner that supports students and scientists of Polish origin as well as cultural and scientific exchanges between Poland and the United States" added Consul Janicki.
After a first fund established by the Polish-American Medical Society in 1999, this is a second scholarship fund administered for this organization by the Kosciuszko Foundation. The first in the same amount of $100,000 is aimed to support physicians from Poland to pursue training and internships in medical institutions in Chicago, Il. Thanks to Kosciuszko Foundation's strict and ethical investment rules the fund allowed for over 20 physicians from Poland to work at prestigious institutions in Chicago.
The ceremony took place at the Polish Museum of America in Chicago, IL.
---



The Polish-American Medical Society (PAMS) was established in 1946 in order to facilitate social and professional relations, as well as improve and promote the status of the Polish physician émigré community in the United States. The Society organizes numerous fundraisers for charitable causes, including the annual Physicians' Ball to raise scholarship funds for medical students of Polish descent. We invite you to visit us frequently for updates on our activities and upcoming events.






Kornelia Król, M.D.

President, Polish-American Medical Society in Chicago

Prezes, Zwiazek Lekarzy Polskich w Chicago
FOR MORE INFORMATION: