STEPHANIE T. MUCHA
(1917-2018)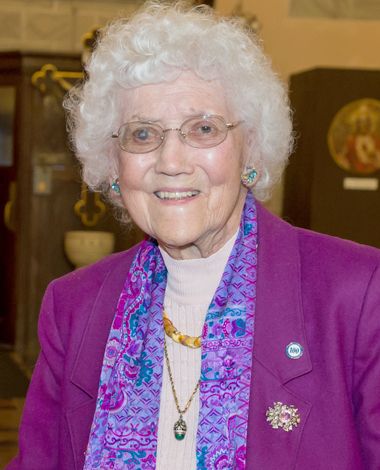 (from: The Am-Pol Eagle, Dec. 7, 2018)
Stephanie (nee Niciszewska) Mucha, a financial wizard, dubbed the Oracle of Buffalo, the female counterpart to Warren Buffett, the Oracle of Omaha, died Monday, Dec. 3 in Buffalo. She was 101.

The self made philanthropist donated $4 million to various programs at the University at Buffalo, including $1 million apiece from her invested shares to the School of Medicine and Biomedical Sciences; School of Arts and Sciences (due to it having a Polish Studies program); School of Engineering; and Medical School. She also donated $1 million in trust to the Polish Kosciuszko Foundation.

Mucha had received from UB the Walter P. Cooke Award, which recognizes notable and meritorious contributions to the university made by non-alumni. Additionally, the medical center at the Buffalo Niagara Medical Campus, completed in April 2017, honored Mucha with her maiden name "Stephanie Niciszewski Mucha" inscribed at the facility – recognizing her numerous donations.

Stephanie Theodora Niceszewska was born Aug. 2, 1917. Her thirst for knowledge led her to get her degree as a licensed practical nurse. Working at the Veterans Administration Hospital, she saw first-hand the cutting-edge medical devices that would transform medicine.

She worked for more than 40 years as a licensed practical nurse at the Buffalo Veterans Affairs Medical Center, and was recognized in 1987 with a Sustained Superior Performance Award for the "completion of 40 years of faithful and honorable service."

She and her husband Joseph had bought stock in Medtronic, the company that bought the pacemaker patent from Buffalo native Wilson Greatbatch. An example of their business acumen is that purchase of 50 shares of Medtronic at $5.11 per share grew as they held it for 26 years. By then, they held 8,500 shares at $54 each totaling $459,000.
Her late husband had emigrated at the age of 18 from Poland with his stepsister and in 1936 was recognized in New York City by the Polish Embassy for his articles in Polish publications. The couple provided scholarships for 30 students of Polish ethnicity.

Joseph died in 1985. It was five years before Stephanie touched their portfolio. Yet, by 2007 it had grown to more than $3 million due to her business savvy. Mucha did not own a computer but made trades over the phone and reinvested her dividends.

She retired from nursing in 1993.

Her goal was to distribute her wealth to deserving organizations. Mucha said, "You can't take money with you when you pass on."

In 2011, she received the Philanthropist Award from the UB College of Arts in Sciences. In 1975, she received a rare-in-circumstance Purple Heart Award, one of 100 civilians to receive the award for her "outstanding work as a nurse for veterans." She also was the 2015 Am-Pol Eagle Citizen of the Year in Health/Medicine.