MARIA J. HAGADUS---IN MEMORIAM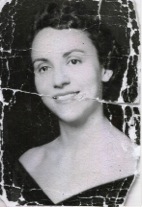 Maria Hagadus, a resident of Bedford Hills, NY, since 1969, an artist of international reputation, died peacefully at home on January 1, 2014, from the complications of a long illness. She was 86 years old. She is survived by her husband of 64 years, Ronald J Hagadus MD, (Ophthalmologist), daughters Francesca Hagadus-McHale (William), Pleasantville, NY, Claudia Hagadus Long (Clyde), Lafayette, CA, and four grandchildren Julia, William, Timothy, and Thomas. She was predeceased by a son, James Matthew Hagadus MD.
Arrangements are private, and in lieu of flowers a donation in her memory to The Kosciuszko Foundation, 15 E. 65th St., New York, NY, 10065, is suggested.
Maria was born in Lodz, Poland before World War II, and came to the United States in 1945. The "War Years" through which she lived as a young girl, and the long postwar era of Poland's political and artistic isolation deeply affected her artistic sensibilities. The elusiveness of freedom is almost thematic in her most powerful paintings, some seen at her recent exhibit, "Images And Words—Six Decades" at galleries in Chelsea and The Kosciuszko Foundation in New York.
Maria studied formally at the Fleisher Art School in Philadelphia, and later was student and teacher with Bedford, NY, artists B. Shirley Carter and Anthony Toney. She founded the "Maria Hagadus Studio-Gallery" In Bedford Hills, NY, and in 1981 presented the exhibit "Poles Apart", held at Bedford Village Historical Hall, a landmark of the American Revolution and the struggle for freedom. All proceeds were donated to charities.
Among her eclectic talents and fluency in five languages, Maria was translator of Polish and German poetry, prose, and theater, including the works of Nobel Laureate Czeslaw Milosz. In New York she was an early and continuing member of the "Byrd Hoffman Foundation", the theater workshop in Soho founded and led by the avant-garde director, Robert Wilson, and she frequently appeared in his Off-Broadway productions.
She served as Trustee and Trustee Emeritus of The Kosciuszko Foundation. Maria Hagadus was blessed with beauty, talent, and genius; she held herself to the highest standards, and judged only herself; she was loving and beloved; she was a woman of sublime style and elegance; she was ever the great lady.