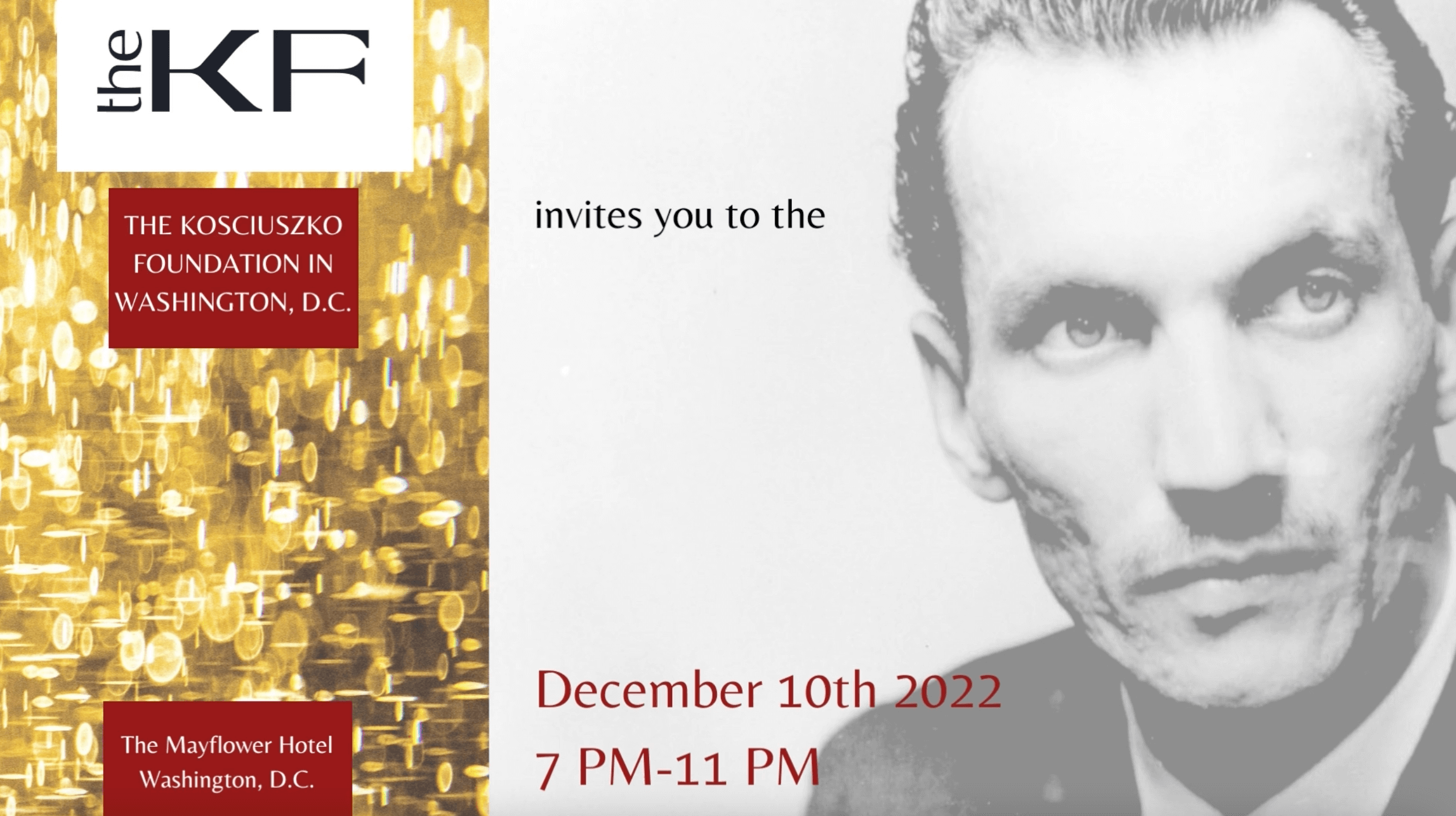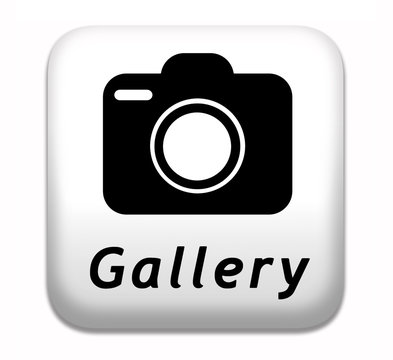 ---
The KF Fundraising Gala Dinner in Washington D.C.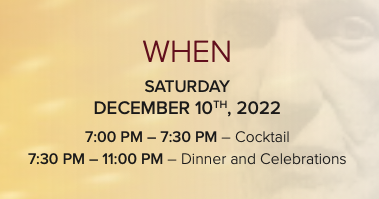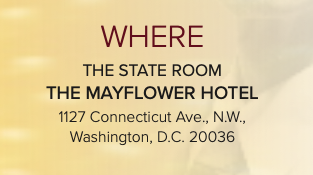 In the Spirit of Jan Karski.
Celebrating Individual Courage
---
Please join us for this fantastic event!

In case you cannot attend, please consider placing an ad in The Kosciuszko Foundation Journal, purchasing raffle tickets, making a donation or sponsoring a ticket for one of our scholarship recipients.

Any form of support is greatly appreciated!


We will honor the creators of the play and now also film: Remember this. The Lesson of Jan Karski.
Derek Goldman, Clark Young, David Strathairn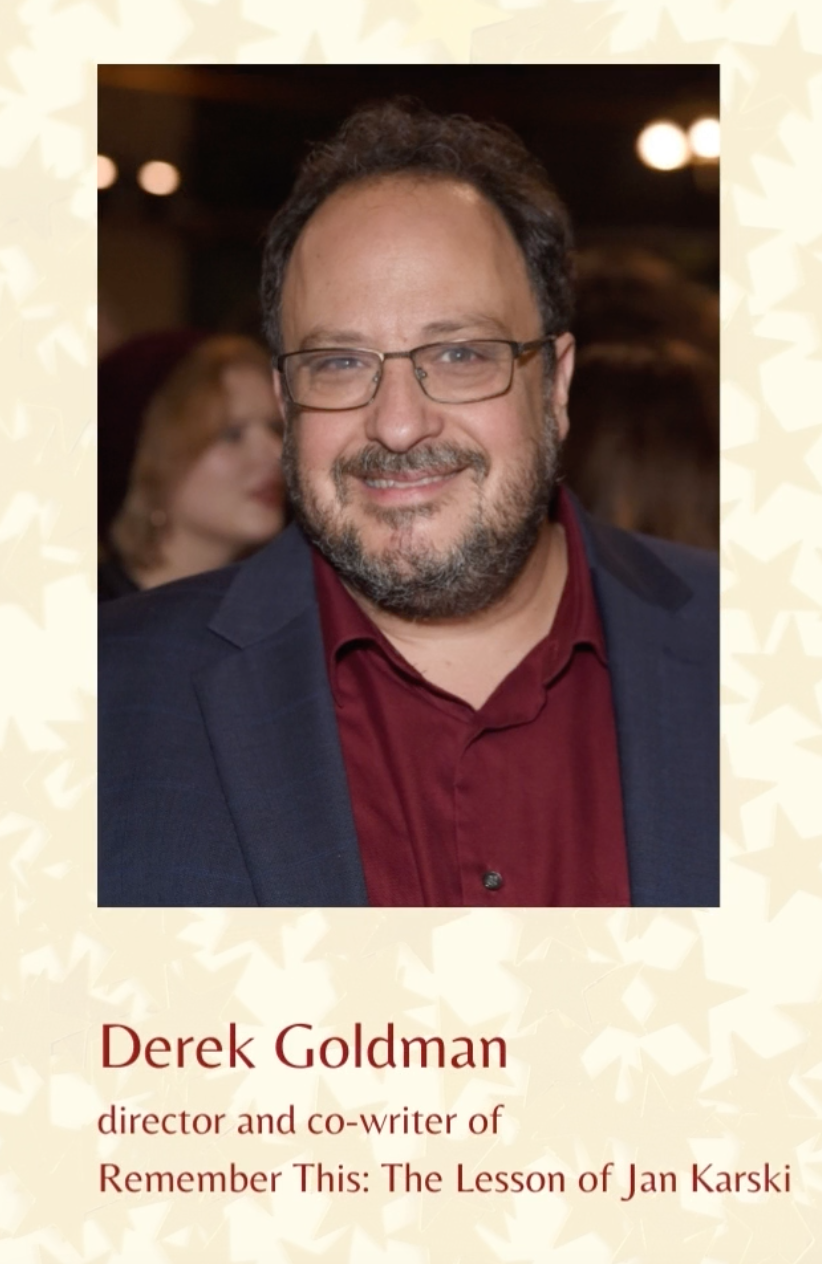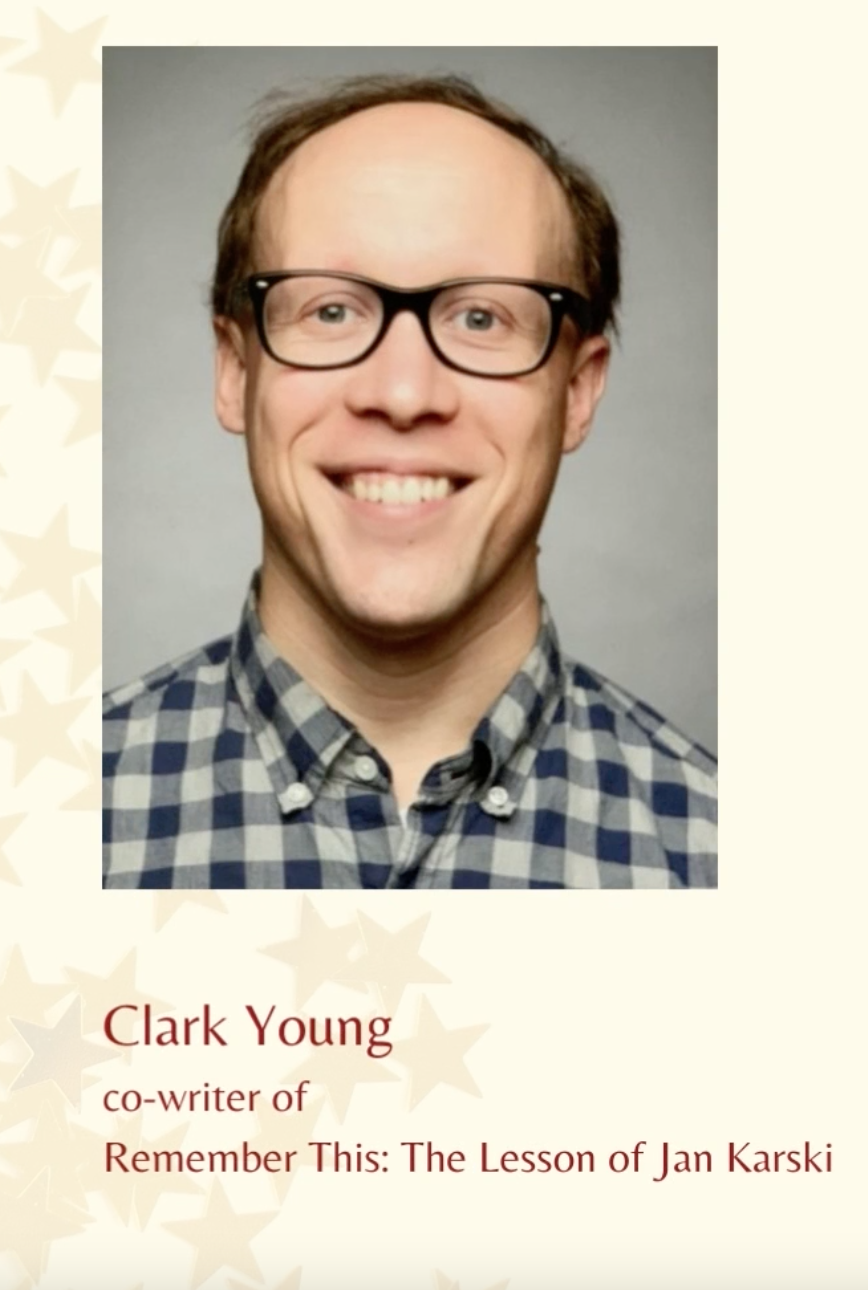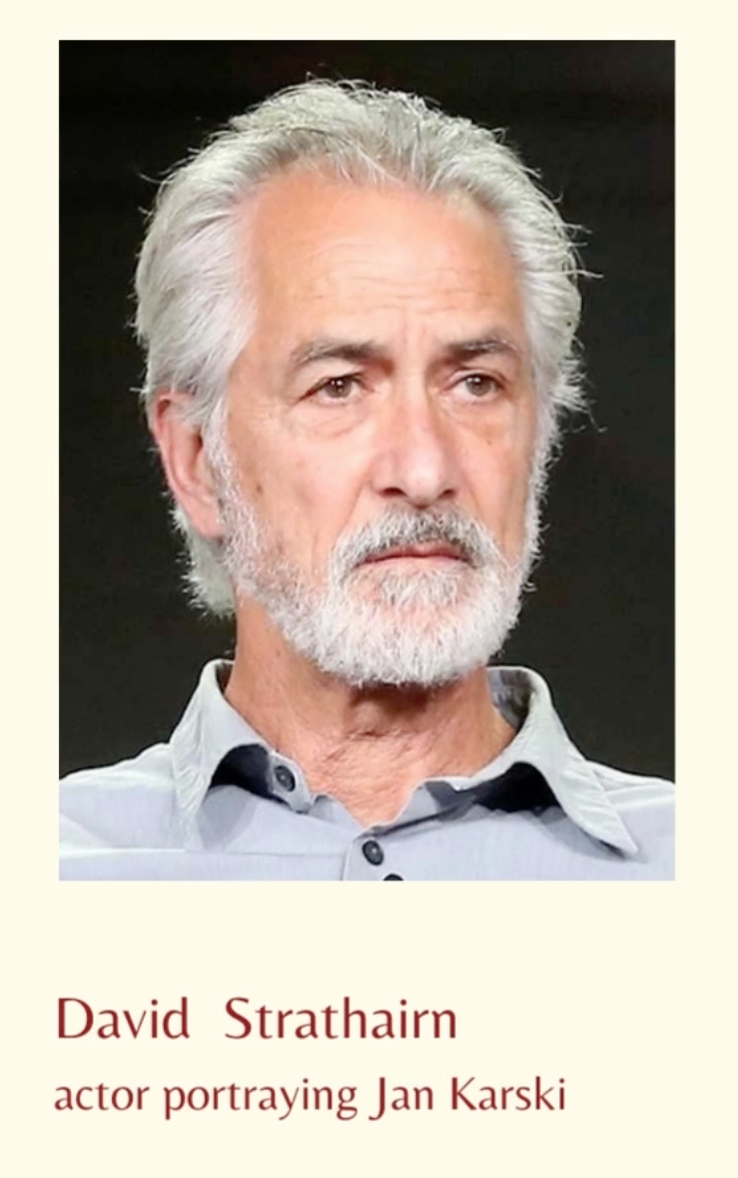 as well as
Polish-American actor, director, writer, professor and philanthropist
Omar Sangare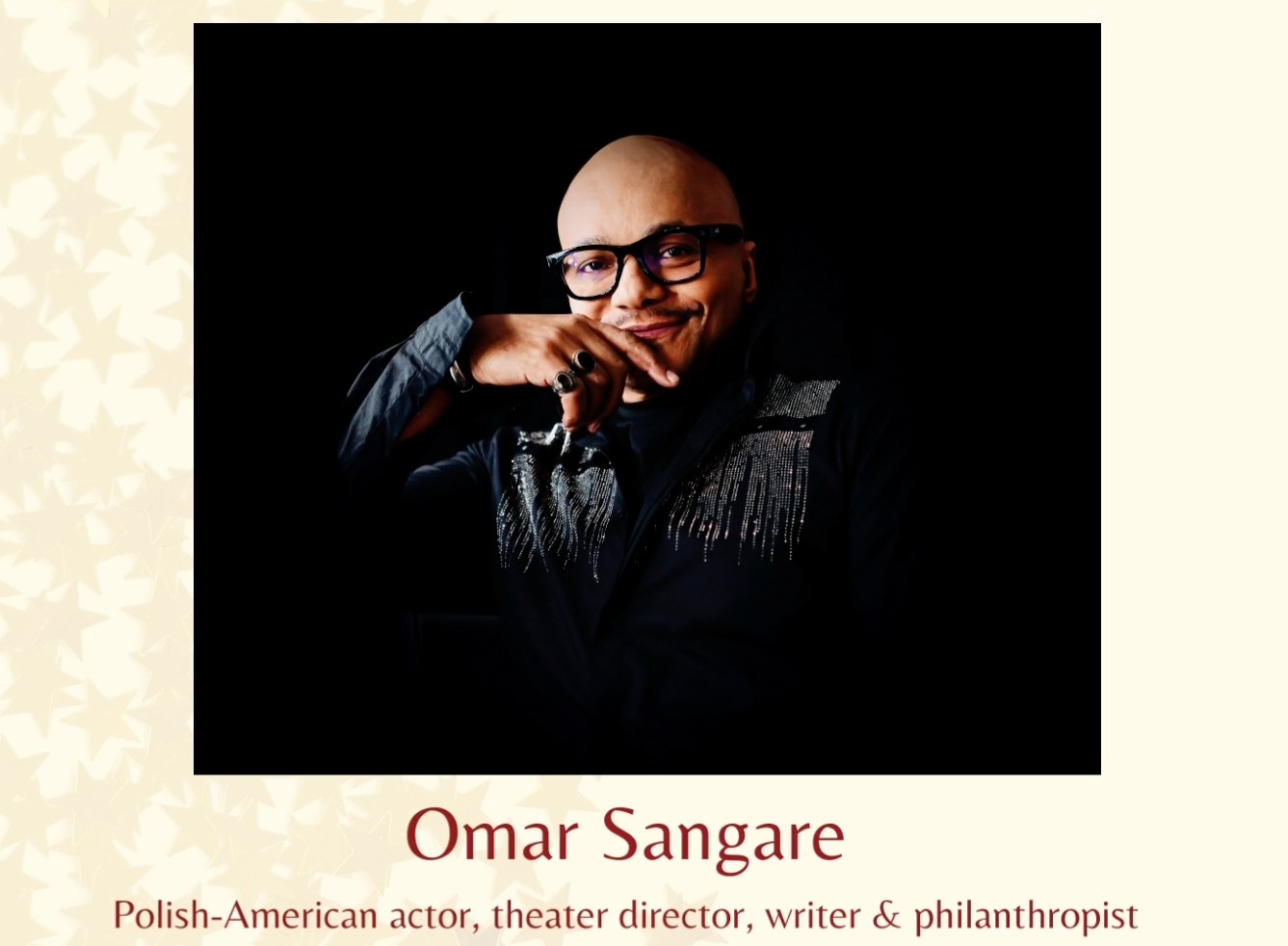 ---
The artistic program includes:
Performance of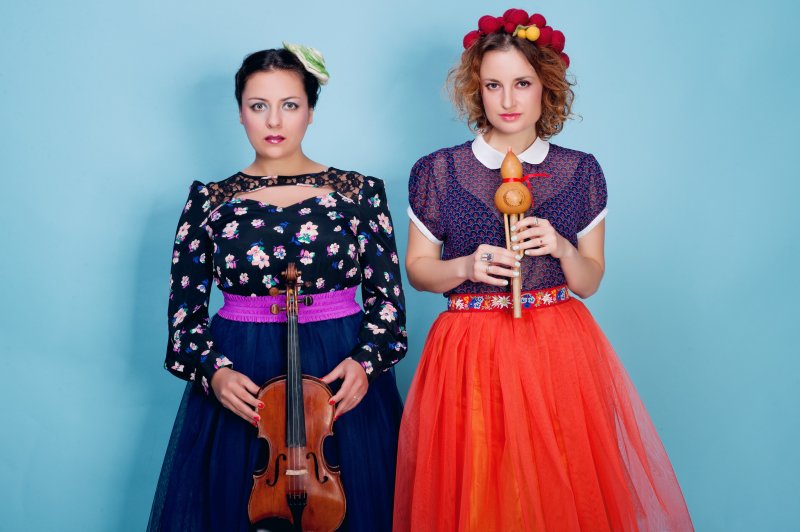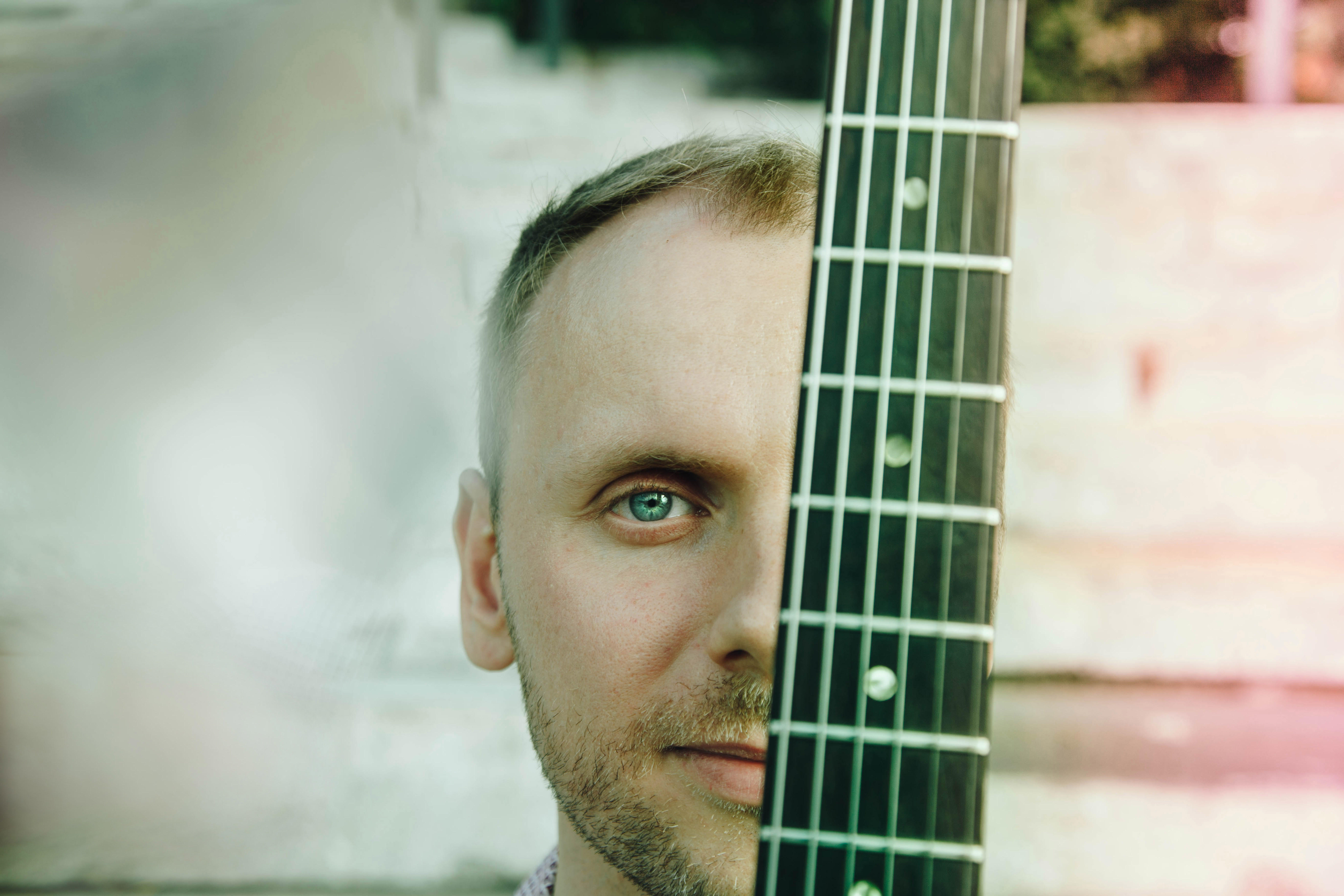 BABOOSHKI - A POLISH-UKRAINIAN JAZZ ENSEMBLE
Karolina Beimcik, Dana Vynnytska, Rafał Sarnecki
We hope you will join us!
---
Laureates of the KF 2022 Pioneer Awards:
Derek Goldman is Artistic and Executive Director and co-Founder of the Laboratory for Global Performance and Politics (The Lab) at Georgetown University, with the mission of humanizing global politics through the power of performance. He is an award-winning stage director, playwright/adapter, scholar, producer, and developer of new work, whose work has been seen throughout the US, off-Broadway, and internationally at leading venues such as Shakespeare Theater Company, Steppenwolf, Lincoln Center, Kennedy Center, Arena Stage, Baltimore CenterStage, Folger, Ford's Theater, Chicago Shakespeare, and many others. Over 18 years at Georgetown, he has served as Chair of the Department of Performing Arts, Director of the Theater & Performance Studies Program and Artistic Director of the Davis Performing Arts Center, and he also holds a joint appointment as Professor of Culture, Politics & Global Performance in GU's School of Foreign Service. He is the author of more than 30 professionally produced plays and adaptations and he has directed over 100 productions. His engagement with global performance in recent years has taken his work to Sudan, Cambodia, Bangladesh, China, Poland, South Africa, Australia, Peru, Japan, Bulgaria, Armenia, Chile, the Czech Republic, Italy, Spain, Argentina, France, and throughout the UK, among other places. He is a member of the Board of Directors of Theatre Communications Group (TCG); Vice-President of UNESCO's International Theatre Institute, and Founding Director of the Global Network of Higher Education in the Performing Arts. He holds a Ph.D. in Performance Studies from Northwestern University, and he received the President's Award for Distinguished Scholar-Teachers at Georgetown and the Provost's Award for Innovation in Teaching for his work as creator of In Your Shoes, an internationally recognized groundbreaking model for using performance to counter polarization. He is the director and co-author of the internationally celebrated production Remember This: The Lesson of Jan Karski, starring David Strathairn, as well as co-director of the feature film adaptation Remember This.

CLARK YOUNG is a writer and teacher based in Brooklyn. He co-created every iteration of Remember This: The Lesson of Jan Karski from Warsaw and New York City to London and Washington DC. A Georgetown University graduate, Clark was awarded the Terrance Davis Medal for Excellence in Theater and Performance Studies. He went on to gain his master's degree at NYU Tisch School of the Arts, where he was also recognized for academic excellence in the field of Performance Studies. He has since taught theater at Georgetown and Bronx Lighthouse College Prep Academy. As an actor, he has appeared in over twenty professional productions. Clark is currently workshopping his new play, .406 Below, about cryonics, baseball, family, and immortality.
David Strathairn is an acclaimed film, theater, and television actor and performer, the Oscar nominee and the Emmy award recipient. His best known roles include "Good Night, and Good Luck" (2005), "The Bourne Ultimatum" (2007) and recent "Nomadland" (2020) and "Nightmare alley" (2011). Mr Strathairn performed over 30 theatrical roles and has been involved with experimental theater. His most recent performance was a solo performance of Jan Karski "Remember This: The Lesson of Jan Karski."
Strathairn has also worked extensively in television, and first became familiar to television viewers as the title character's boss in the series The Days and Nights of Molly Dodd (1987). In addition to narration work for many PBS shows, Strathairn has appeared in the TV series Big Apple (2001), The Sopranos (1999), Monk (2002), and headed the cast of the science-fiction series Alphas (2011). His work in television films has brought him an Emmy Award for Temple Grandin (2010) and an Emmy nominations for Hemingway & Gellhorn (2012).
Omar Sangare is one of most influential people in theatre. Dr. Sangare graduated from the National Academy of Dramatic Art in Warsaw, Poland, where he studied with the Oscar-winning director, Andrzej Wajda. He was awarded a scholarship to The British American Drama Academy in Oxford, England. While there, he worked with Derek Jacobi, Alan Rickman, Michael Kahn, and Jeremy Irons. He holds many film, television, and radio credits. For his one-man drama "True Theater Critic," he was voted The Best in Acting by The New York International Fringe Festival. The New York press acclaimed his lead part in the Arena Players Repertory Theater production of "Othello." Barbara Delatiner wrote for "The New York Times"—"Omar Sangare was born to play Othello!" His published six books and many essays and articles for various magazines and newspapers. He was selected by the U.S. Department of State for a video project that appeared as part of President Obama's trip to Poland. Dr. Sangare is a founder and artistic director of UNITED SOLO, the world's largest solo theatre festival, a resident company at Theatre Row on 42nd Street in New York City. Omar Sangare was born to present his talents internationally through a thriving career as an actor, director, writer, producer, educator, and philanthropist. In 2009 he received the Red Cross Diploma for his charity service and contributions over the years. He is a proud father of his son, Maximilian Sangare.
Babooshki is an ethno- jazz music group formed originally in 2011 by Polish Karolina Beimcik and Ukrainian Dana Vynnytska. Their music is a unique combination of Slavic folk music, elements of jazz and influences of classical music.
What brought the musicians together is their passion to find and enjoy common ground between the neighboring countries of Poland and Ukraine on a cultural as well as musical level. Babooshki introduce music derived from their common Slavic roots, especially from a rich tradition of the Eastern Borderlands region (Kresy). They often find their inspirations in local Slavic melodies from this region, some of them almost completely forgotten, living only in the memories of the inhabitants of small villages.
The main source of research for the artists are songs and melodies collected by Oskar Kolberg (1814-1890), one of the first Polish ethnographers. Kolberg spent his life traveling across Poland and Ukraine and recording music and customs of the Slavic people.
Babooshki released three albums. Koledy (Carols), Vesna (Spring) and Będziemy się krążyli (We will be spinning around).
Karolina Beimcik is an award-winning jazz & world music vocalist and violinist. She was born in Poznan, Poland. Ms. Beimcik holds an MA in Jazz Performance which she obtained at Queens College in New York City and MA in Cultural Studies at the Adam Mickiewicz University in Poland. Her awards and accolades include the Second Prize at the New Tradition Festival with the project "Babooshki", Grand Prix at The Niemen Non-Stop Festival, Polish Television Special Prize, Marshall of Pomerania Prize, Second Prize at The International Jazz Singers Competition in Zamosc.
In July 2017, Karolina Beimcik was selected to the artist residency program Citizen Artist Incubator in Linz that prepares 15 of Europe's most promising artists for their vital role in global challenges. Later, Karolina became an artist in residence in Morocco where she studied the culture and different styles of traditional Moroccan music. She participated in numerous festivals and conferences, such as the prestigious jazz festival in Europe, Bielska Zadymka Jazzowa (Bielsko-Biała, Poland). She received stipends from Polish Society of Authors and Composers (2014) and the Ministry of Culture and National Heritage (2017). In 2017-2019, she curated two musical projects under the patronage of the Minister of Culture and National Heritage: 'Zorya' - an international project promoting Polish music in New York and the 'Komeda' (Stories Crafted With Sounds).
Currently, she teaches voice at the Global Music Institute, Noida, India. She is also working on her solo album.
Dana Vynnytska comes from Ivano-Franks in Ukraine and currently lives in Wroclaw. She graduated from the Composition Department at the Lviv National Musical Academy. In 2008, she was the laureate of the "Gaude Polonia," a scholarship program funded by the Polish Ministry of Culture and National Heritage, designed for young artists from Central and Eastern Europe. Her half-year scholarship in Poland allowed Dana to study and actively perform live.
Dana is involved with a group Dagadana (mix of Polish and Ukrainian music) and Spiewacza Banda (worlds music). Also she participated in recordings of artists such as Shokolad and Afro Kolektyw.
She performed over a thousand concerts in twenty eight countries and with different music groups.
Dana and her band Dagadana were awarded (in World Music category) with Fryderyk (Polish equivalent of the Grammy Award). She has record contracts in Poland, China, Japan, Germany and Ukraine.
When Dana and Karolina met, they sang some carols together. The cooperation was so successful that they decided to continue their musical path together. They have been sharing passion for exploring common traits in Polish and Ukrainian music.
Dana recently recorded a song in support of Ukrainian people with one of the most popular Polish singers Kamil Bednarek. "Nad zieloną miedzą" ("Over a green balk). The entire income that comes from this song was donated to the Ukrainian people. Dana's husband is currently fighting the war in Ukraine.
Rafał Sarnecki guitarist, composer, arranger born in Warsaw, Poland. In 2005 he left his hometown to study jazz in New York where he spent most of his career. While living in NY, he was involved with a variety of New York based groups such as: Lucas Pino No-Net Nonet, Annie Chen Group and David Bertrand Quartet. He also started his own sextet featuring Lucas Pino, Bogna Kicińska, Glenn Zaleski, Rick Rosato and Colin Stranahan. As a leader of his own projects he has toured China, South Korea, Malaysia, Chile, Israel, the East and West Coast of the US and many European countries.

---